---
The Russian professional magazine on flexo, screen, tampon, gravure printing, converting, label and packaging production
---
Russian professional magazine «FLEXO PLUS» (published since 1997) is devoted to flexography and all other kinds of package, label and decoration printing. The market of flexography, gravure, screen printing etc. is growing in Russia very fast in recent five years. There is a great demand for technological knowledge and technical & market news in this area. «Flexo Plus» is the only media in Russia and CIS meets this demand.
Main topics: flexo technologies in label & package printing, gravure prepress and printing technologies, letterpress and screen printing developments, tampon printing etc.
The readership of «FLEXO PLUS» consists of technical experts, top managers of almost all Russian label & package printing companies and a lot of people involved in this business.
Circulation: 2.000 copies. This circulation covers now practically all the market needs.
Distribution: Russia, CIS & Baltic countries. Subscription through national subscription systems in Russia, Ukraine and Byelorussia. Retail sales. About 200 copies are delivered specially for professors and students of Moscow University of Printing and its affiliates. Distributed at main printing & packaging exhibitions in Russia and CIS.
Editor-in-Chief: Nina Shapinova, Dipl. Eng.
Free publication of news releases!
Since 1999 Flexo Plus Magazine is a bimonthly publication (6 issues per year) and has a wide circulation in Russia and other parts of former Soviet Union.
Shedule of issuing 2002
№ 1 February
№ 2 April
№ 3 June
№ 4 August
№ 5 October
№ 6 December
---
These companies advertise in Flexo Plus magazine:
AveryDennison, Barco, BASF, Bobst, Cerutti, Comco, CMR, DuPont, Edale, Gallus, Mark Andy, Windmoeller&Hoelsher etc.
---
«FLEXO PLUS» was established in June 1997 to inform Russian printers of packaging and labels on latest developments. As its name implies the magazine is focused on special types of printing technologies, equipment and materials.
Flexo Plus Magazine articles based on Russian and international experience. The authorship consist of worldwide known industry experts.
The main reason why Kursiv Publishers started this new publication is the rapid growth of Russian packaging market in last few years and obvious lack of available informational resources on technologies this market requires.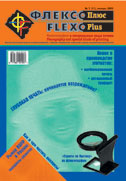 (Cover of latest issue of Flexo Plus Magazine, #1 (31), January 2003)